1840 Federal Census of Marion County, Kentucky
Name
males
females
agriculture
total
<5
5-10
10-15
15-20
20-30
30-40
<5
5-10
10-15
15-20
20-30
30-40
Elijah Beegles
0
0
0
0
1
0
1
0
0
1
0
0
0
3
William Beegles
2
2
0
0
1
0
1
0
0
0
1
0
1
7
Ezekiel Beegles
2
0
1
0
0
1
1
0
1
0
0
1
3
7
1850 Federal Census of Marion County, Kentucky, p.370
592
592
MINOR
John T.
M
and family
593
593
BEAGLES
Ezekiel
30
M
farmer
$700
Ky
Rebecca
30
F
Ky
illit
Isaiah
14
M
Ky
in school
James M.
9
M
Ky
in school
Mary F.
4
F
Ky
Willis
2
M
Ky
594
594
MILBURN
Joseph
40
and family
595
595
BEAGLES
William
37
M
laborer
$500
Ky
illit
Jurasa
40
F
Ky
illit
Berry
17
M
laborer
Ky
Lucy
15
F
Ky
William
11
M
Ky
in school
Robert
7
M
Ky
in school
Mary E.
5
F
Ky
Sarah
3
F
Ky
ARNET
William F.
20
M
596
596
BEAGLES
Ezekiel
43
M
farmer
$300
Ky
illit
Rachel
45
F
Ky
illit
Drusilla
17
F
Ky
John
14
M
Ky
Nathan
12
M
Ky
in school
Martha
8
F
Ky
in school
Emily J.
4
F
Ky
597
597
BEAGLES
William G.
23
M
farmer
Ky
illit
Elizabeth
20
F
Ky
illit
Rachel A.
1
F
Ky
MOTEN
John
10
M
Ky
598
598
HOLLAND
George
29
M
and family
Marion Co, KY deeds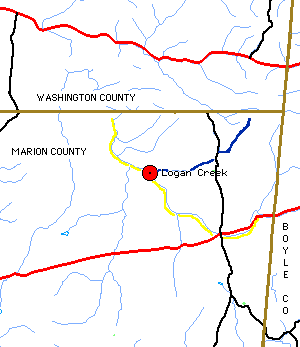 Book 5 p. 185 16 Feb 1869
Jarasia Beadles of Washington Co, KY
to Samuel H. Harmon of Boyle Co, KY
Sum of $500: $100 payable in 12 mos; $125 payable in 2 years; $275 in cash Lien retained on property
Land in Marion Co, KY on waters of Logan Creek
White Oak Tree at the Bridge Rd. in Southerland's line west with the road as its meanders to a hickory tree corner to Sutherlands in the widow Dority's line thence south with said widow Dority's line to corner to Laukford thence east with Paukford's line to corner to Lucy Web thence with said line to beginning. Containing 73 acres.
Jurisia (her mark) Beadles
Note: Logan Creek, a tributary of Beech Fork, is in the northeast corner of Marion County, north of Gravel Switch, Ky. The map at right shows the location of Beech Fork (in yellow) and Logan Creek (in dark blue). The red and black lines are local roads. The gold/brown lines are the county boundaries.